Create this delicious Gluten Free Spinach Dosa at your home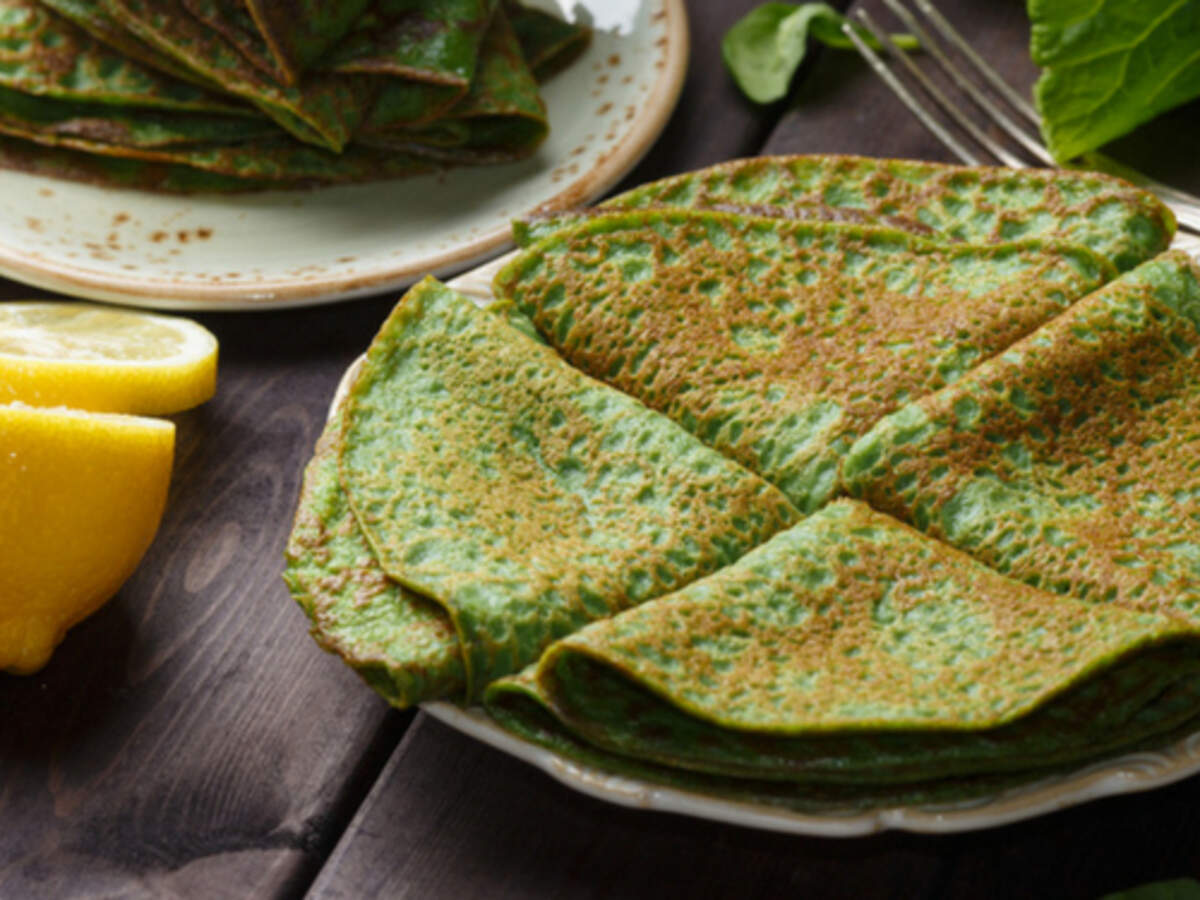 Dosa is one of the most famous dishes from South Indian cuisine that has found a universal appeal. Dosa is savoured with a delight not only in the Indian subcontinent but also across different parts of the world. The light texture and flavourful profile of dosa has made this food item a favourite breakfast choice all over the world.
Dosa can be prepared in a fairly simple manner as the main ingredient required in the preparation of dosa is a fermented batter. This fermented batter is made out of simple everyday ingredients such as rice or lentils or both. A wide variety of dosas can be created by experimenting with the ingredients to prepare different dosa batters and fillings that are used inside.
Some of the most common types of dosas include paper dosa, mysore dosa, masala dosa etc. where the filling inside each dosa is prepared in different spices. The dosa is then served with a dash of cow ghee alongside different sides such as sambhar, coconut chutney and tomato chutney. In this recipe, we are going to create a unique type of dosa by introducing a healthy punch of spinach to it.
Instead of using the traditional dosa batter, this Spinach dosa will be prepared with batter using the Gluten-Free Aashirvaad Atta. The Gluten-Free Aashirvaad Atta is created using a unique formulation by ITC which provides an appropriate solution for people with gluten intolerance. This Aashirvaad Atta is a unique blend of different attas which include jowar atta, flaked rice atta, ragi atta and Psyllium husk powder. Here's a look at the preparation of a delicious Spinach Dosa using Gluten Free Aashirvaad Atta.
Ingredients:
¾ cup Aashirvaad Gluten Free Atta
¼ cup Spinach Puree
Salt (as per requirement)
Ground Black Pepper (as per requirement)
1 tsp Oil
½ cup Brinjals (finely chopped)
½ cup Capsicum (finely chopped)
½ cup Onions (finely chopped)
½ tsp Garlic (finely chopped)
1 tbsp Celery (finely chopped)
½ cup Tomatoes (finely chopped)
½ tsp Dried Oregano
Preparation of Gluten-Free Spinach Dosa:
Take Aashirvaad Atta in a bowl and then add spinach puree, salt and water to it. Mix the ingredients well using a whisk till there are no lumps present. This mixture will be the dosa batter for our gluten-free dosa.
Take a pan and add some oil to it, then add the finely chopped ingredients to the pan which include brinjals, capsicum, onions, garlic and celery. Mix all of these ingredients well in the pan. Then add finely chopped tomatoes to the mix along with black pepper and dried oregano.
Take another pan and evenly apply oil to it. Pour a ladle of dosa batter on the pan and spread it into a symmetrical circle using the back of the ladle. Cover the pan and let the dosa cook for 2-3 mins. Put the cooked vegetables on top of the dosa and press lightly.
Carefully remove the dosa from the pan once it is cooked properly. Fold the dosa in half and serve it fresh with sambhar and coconut chutney. Your freshly prepared gluten-free dosa is ready to be savoured.